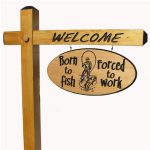 Buzz Art has manufactured personalized wooden signs since 2008, adding that special touch to your home, cottage or business. All of our custom made red cedar signs are customized with art work, colours and text to meet your requirements. Check out hundreds of examples by selecting a production type from the menus at the top of the web page.

Buzz Art specializes in wood engraving with a primary focus on cottage signs, home address signs, commercial signs engraved wooden plaques, and engraved pucks. With the use of a CNC machine specifically designed for cutting wood and plastic Buzz Art creates amazing work that we are sure you will enjoy and be proud to display for a long time.

Select from stock items or be part of the design process and select your own wood, graphics and colours.

All signs are created using high quality outdoor glues, paint and stains. This ensures the maximum life of the product indoors and out


These signs were selected by John as his favorite for each month.
Check back each month for his selection
Skywood Eco Adventure park

Buzz Art signs are used around the world. In the attached article our signs are used in Switzerland for the beavertail shack. Once selected it will take about 15seconds for the news to come on line after the commercial is finished.

Ideas for engraved wood signs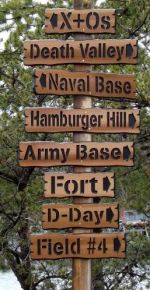 Custom wood signs
Cottage signs
Family crest
Trailer signs
Gifts
House numbers
Office name plates
House address
Horse stalls
Camp signs
Wooden clocks
Camper signs
Wood id plaques
Coat of arms
Driveway sign
Family name sign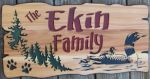 Ask about our Gift Certificates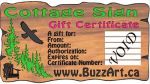 Not sure exactly how to customize it for a friend? Give them a gift certificate and let them decide. Gift certificates are available in all denominations.

Contact Buzz to arrange for a Gift Certificate

Reasonable rates for shipping are available to Canada and the US.
We now offer shipping of posts in Canada for about $80-100.

How did you find Buzz Art poll